Freddy's Show-Results and Pictures
---
2016
Result of the International dog exposition in Genève (Switzerland)
November 11th 2016
Last honor in this year: CAC, Reserve CACIB
Result of the international dog exposition Innsbruck (Austria)
August 13th/14th 2016
Another brilliant result: CAC, CACIB, BOB and Best of Group 1.
Thereby the "Alpensieger" award is handed out to him also at this exposition.
Posinf for the cameras


* DREAM WISH BELIEVE *
What a nice show which brought up beautiful memories!
8 years ago we went to our first show outside of Switzerland and I think it was also our second FCI show ever. The judge there in Wels at the first day was Heidi Poschacher. I showed Mercury and he behaved very badly was barking all the time because he wanted to play and I was embarassed and didn't know how to make him stop LOLOLOL he was clearly not behaving well enough to be a winner of anything at that time, but he received the CC not the CACIB though ... tihs is also the first time I met Denis Sabolic and Jadranka Mijatovic. So Denis suggested me to ask Miss Poschacher why she didn't give Mercury the CACIB HE obviusly tough he should have gotten it LOL :-). Miss Poschacher told me that he was not groomed well enough and didn't behave ... from that day on I decided to learn how to groom a dog properly. Denis showed us at the same day how to do it and this was the start of a burning flame ... from this day on I always wanted to become better and better in grooming and presenting my dogs. Motivated by the comment of Miss Poschacher and of course Denis always was an inspiration to me. I am very thankful to everyone who has helped to light the fire in me. I still love grooming and showing and I still want to become better and better. Unfortunately at the moment I don't have enough time but the time will come again and the fire still burns. It's the best to have a passion for something and people and of yourse such beautiful and loving dogs around you who help you to keep the fire burning.
Thank you everyone
Result of the national dog exposition in Aarau (Switzerland)
June 18th 2016
BOB with CAC certificat
Result of the international dog exposition in Aarau (Switzerland)
June 19th 2016
Another CAC for Freddy
Result of the international dog exposition in Kreuzlingen (Switzerland)
May 21st/22nd 2016
Freddy wins CAC, CACIB, BOB and is chosen as "Alpensieger"...
... and this because he was picked up by a french judge (Sylvie Desserne)!
He was under the last 6 dogs in the ring of honour ...
The "Alpensieger"!
---
2015
Results of the international dog exposition in Wels (Austria)
December 5th/6th 2015
After a CAC on saturday
Freddy was honoured with CAC, CACIB, BOB and Best of Group 1 on sunday
Attentive while the presentation



BOB and BOS (Mc Leod's Kleopatra)!
Many thanks to the judge Zlatko Kraljic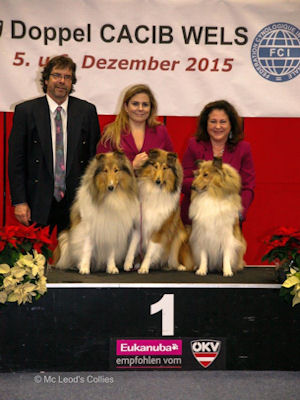 Best Breeding Group


Many beautiful, funny, intense and informative moments are behind us.
Our breeding was honoured by winning one time 3th best breeding group
and another time 1st in the breeding groups. What a nice treat for all the hard work.
---